Welcome to the April 2021 Craft-a-Flower release! You should be arriving from Tina Smith's blog. If not, you can track back to the Altenew Card Blog to start at the beginning, or continue around until you loop back here.
Affiliate links are used in this post. When you click on them and make a purchase, I may receive a small commission at
no additional cost to you. Thanks for supporting my blog!
craft-a-flower: cistus & new paper!
Not only do we have a new craft a flower set, but new gradient cardstock packs! Look at all this beautiful color!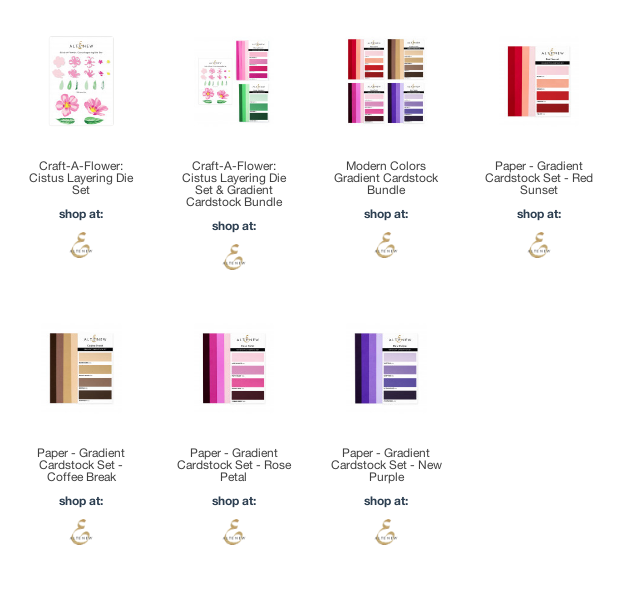 mixed media cistus
Before I get too far into my project, I did want to point out that this die set complements the Flowering Cistus stamp & die set. These Cistus are larger than the Flowering Cistus set, but you could use both to create something really beautiful!
One thing I hear often is "oh, I can't use any of my CAF sets because I don't have any gradient cardstock". Well, let me tell you – that's just not true! Yes, there is new cardstock available today, but that's not the only way you can use your CAF sets!
Let's take a real good closeup of the beautiful texture and color! I created these dramatic florals by combining colored vellum, heat embossed vellum, and plain and heat embossed cardstock. Beautiful, no?
To color the vellum, I swiped Hazelnut ink on the back side of the vellum, and used my heat tool to set the ink. Then, I could diecut the pieces. For the ones that I wanted to add some sheen to, I coated the top side with Embossing Ink and coated in clear embossing powder and heat set.
Looking for more specials and deals from your favorite craft stores?
Check out my Crafty Sales page – UPDATED DAILY!
I did the same for the Dark Chocolate cardstock layers – heat embossing some, and not others.
To create the coordinating enamel dot in the center of the bottom flower, I used my Artist Marker in Dark Chocolate to color the dot. It works!
For even more dimension, I used small foam dots in between some layers, and left other layers (like on the leaves) only attached at the bottom.
share and inspire someone today!
---
Now, about that GIVEAWAY…
To celebrate this release, Altenew is giving away a $50 gift certificate to 2 lucky winners and a $20 gift certificate to 5 winners! Please leave a comment on the Altenew Card Blog and/or each designer's blog post on the blog hop list below by 04/13/2021 for a chance to win.
Altenew will draw 7 random winners from the comments left on each stop of this blog hop and announce the winners on the Altenew Winners Page on 04/15/2021.
Time to hop along!
Be sure to hop over to Amanda Baldwin for more amazing inspiration. And don't forget to leave comments along the way to enter all the giveaways!
you make a difference!
You can help my craft education efforts by using these links to shop for your craft supplies! These are Compensated Affiliate Links, meaning that when you click and shop, I may receive a small commission on your sale, at no additional cost to you. It's an easy way to say "thanks" and keep this great content flowing!