True North Light-up Card – EZ-Light Hop
True North Light-up Card – EZ-Light Hop

Hi everyone! I have a super fun hop for you today! If you love interactive cards (something I don't do a lot), you're going to love this hop! We're all featuring a super cool product called EZ-Lights from my friend, Amanda Stevens – owner of Pear Blossom Press. We have a giveaway too, so be sure to read to the end for details.
If you're arriving from Tanna, you're in the right place! If you want to start from the top, head over to Amanda. Or you can just continue around the hop until you make your way back here.
Affiliate links are used in this post. When you click on them and make a purchase, I may receive a small commission at no additional cost to you. Thanks for supporting my blog!
The Night Sky
Off and on over the last year, I've looked at different ways to create light up cards… A lot of what I saw seemed really time consuming and left me abandoning the idea "for another time". Well, now that I have EZ-Lights, there's no excuse not to make a light-up card! If you can make a shaker card, you can make a light-up card with EZ-Lights.
I met Amanda Stevens, owner of Pear Blossom Press and creator of EZ-Lights, at Creativation this past January. I mentioned that I'd been wanting to try her light packs (which I may have called by another brand name… whoops!) and she whipped out a sample and handed it to me. OOOH!!! Yippee!!!!
The only problem I have is that I don't have a lot of stamp sets that really lend themselves to the light-up treatment. Or, at least that's what I thought. After rifling through my stash, I started to think outside the box and decided that ANY card can be a light-up card! It doesn't have to be a cutesy card that has the obvious place for lights. Why not add them into a background with a beautiful floral arrangement? That left me with some ideas for the future.
For today, I thought I'd create a night scene using a favorite cover die from Waffle Flower. I added in some small star diecuts to create the space for the lights, and couldn't be happier with how it turned out!
The other thing I didn't have was a "press here" stamp. I decided to cut out the small sentiment in a circle so it could serve as that "button". I figure I can also add a little post it that says "press here" so the recipient knows what to do and can be surprised.
Remember when I said it was super easy to set up? Well, here's what it looks like on the inside. See how it's just like a shaker card with the foam bumpers? Really – you can do this!
See how it's done
I have a start-to-finish project tutorial video. The second half will show you how I install the EZ-Lights. If you don't have time to watch now, you can click on the clock icon in the upper right to save the video to your watchlist for later.
Thank You!
Time is precious and I'm truly grateful that you choose to spend a few minutes of your day with me! If you are in love with my projects and would like to see more, please support my business by following me on Instagram, YouTube, and Pinterest.
​Now, about that GIVEAWAY…
Who wants to win an awesome prize from Pear Blossom Press?? Two prizes will be awarded to two separate winners, chosen at random, from comments left on participating blogs and videos. No purchase necessary. Comments must be posted by 11:59 pm PST on March 25, 2020.
Only one comment per blog or video will be counted, but you can comment on multiple blogs and videos in the hop for additional entries. (This is to prevent spam.) Contest open internationally to participants over 18 years of age. Void where prohibited by law. Any personal information collected will only be used for the purposes of contacting winners, your information will never be shared or sold. Comments left on YouTube videos must not violate community guidelines. This contest is not sponsored by YouTube.
Winners will be announced on April 1, 2020 at pearblossompress.com and prizes must be claimed within thirty days of announcement, or new winners will be drawn.
GOOD LUCK!
Sign up to receive my weekly email newsletter and blog post updates!
(It's free and full of specials & exclusive content!)
Inspired by the products I used?
The supply list is right here! Click a product to start shopping.
These links are Compensated Affiliate Links, meaning that I may receive a small commission on your sale, at no additional cost to you. Thank you for your support!
Items marked with an asterisk (*) were provided by a store or the manufacturer.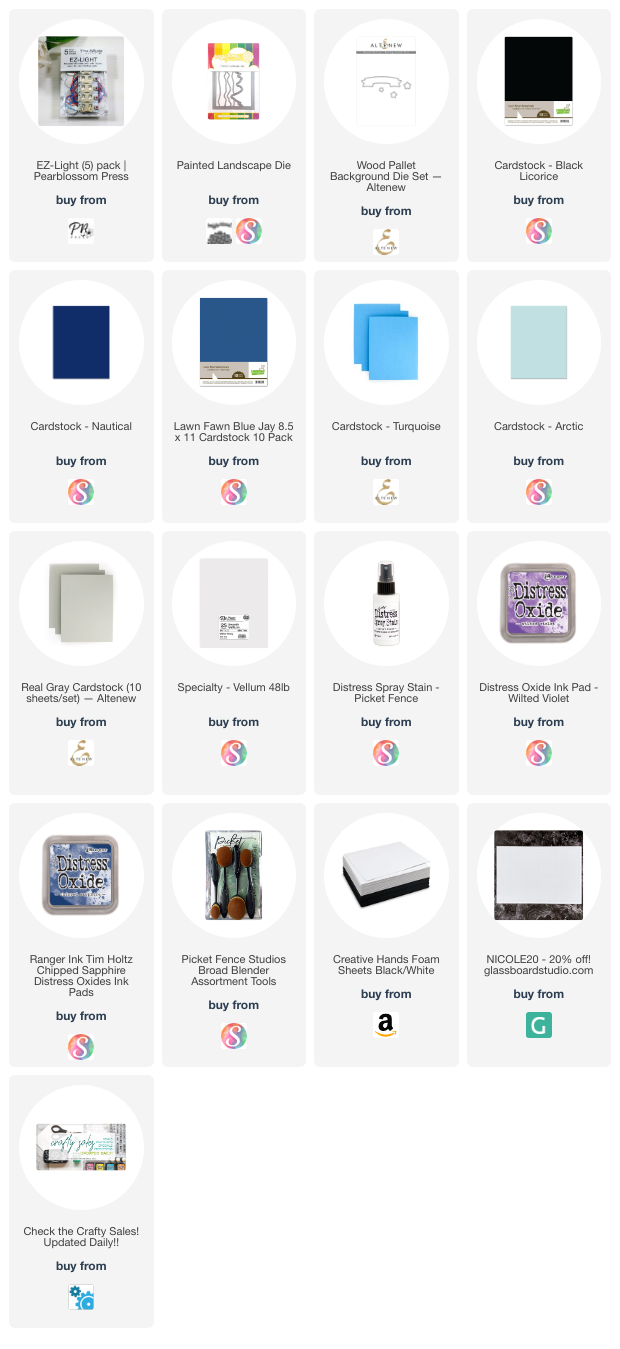 Here's some other projects you'll like!