Welcome back! There's another big release with Altenew this month, and we're here to inspire you with some amazing proejcts! You should be arriving from Vicky Papaioannou's blog. If not, you can track back to the Altenew Card Blog to start at the beginning, or continue around until you loop back here.
Affiliate links are used in this post. When you click on them and make a purchase, I may receive a small commission at
no additional cost to you. Thanks for supporting my blog!
a wondrous world
A wondrous world is filled with things that delight the senses – texture, color, shape… this release has all of that and more! Stencils, embossing folders, dies, and embellishments. There's a little something for everyone!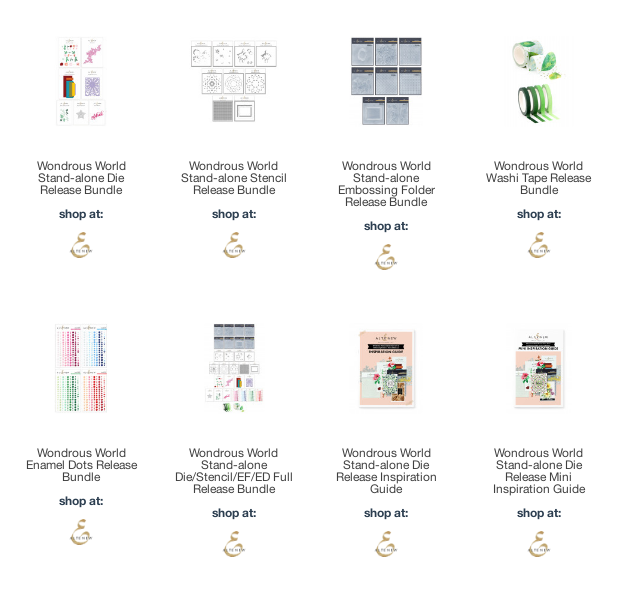 celebrate – collage style
I'm continuing on with my chosen color combo for the month – Ruby Red, Coral Bliss, Sunkissed & Lagoon, so you'll be seeing variations on this combo throughout my projects. This first one is a collage of all sorts of great new products from this month, plus an amazing bonus detail!
You should notice the Red Sunset slim washi tape from earlier this month – and, maybe you see the Foiled Marble washi? We'll talk about that in a minute.
In the forefront, is the new Fancy Celebrate die – add this to your collection of "fancy" dies – which now includes, Celebrate, For You, Peace, Thanks and Hello! The little floral stems behind are from the new Branches and Berries die set, and the enamel dots are from the new Tea Party collection.
Ok, so back to that gorgeous frame… You can see it even better here in the closeup. I covered a piece of white cardstock in the Foiled Marble washi, then, diecut it with the Sweet Friend die, which coordinates with the new Baroque Frame 3D embossing folder. I took the diecut and matched it up to the frame in the embossing folder and ran it through my machine. It is simply stunning and looks like a real marble frame!
Looking for more specials and deals from your favorite craft stores?
Check out my Crafty Sales page – UPDATED DAILY!
rainbow floral lace
The Floral Lace die will make slimline cards effortless! There are so many ways you can use the die, but I opted for a pretty simple (but stunning) example. I created a rainbow smooshed background on some watercolor cardstock and then diecut the Floral Lace die.
Instead of placing it right on the card base, I diecut a rectangle from the Nesting Slim Rectangle die set to pop it up. I added in a sentiment from Label Love and then added coordinating enamel dots from the new Tea Party and Green Meadows enamel dots sets.
joyful tulips
Why are these tulips so joyful? Well, that's simple! It's because they were sooooooo EASY to make!! All you need is the Tulip 3D Embossing Folder, some inks (I used Ruby Red and Sunkissed) and blending brushes. You can have this look in literally a matter of minutes!
I finished off the card with a little watercolor experiment using the Rows of Squares 3D embossing folder, sentiment label from Best Sentiments and some Tea Party enamel dots.
share and inspire someone today!
smooshed modern squares
The Modern Squares 3D Embossing Folder is soooooo amazing! It has amazing depth in all of those little stacked pyramids! The bonus is that you can use it either way – where the pyramids build, or where they sink down. That's what I did here!
The main panel with the Lagoon watercolor smooshed on it has the pyramids building. Then, I took another piece of embossed watercolor cardstock and added both Sunkissed and Ruby Red to the side where the pyramids sink down. I cut out a whole bunch of the squares and then adhered them to the card. You can see in the detail photo below how cool they look, stacked opposite and popping off the page! A simple sentiment from Best Sentiments is the perfect finishing touch!
---
Now, about that GIVEAWAY…
To celebrate this release, Altenew is giving away a $50 gift certificate to 2 lucky winners and a $20 gift certificate to 10 winners! Please leave a comment on the Altenew Card Blog and/or each designer's blog post on the blog hop list below by 02/22/2021 for a chance to win.
Altenew will draw 12 random winners from the comments left on each stop of this blog hop and announce the winners on the Altenew Winners Page on 02/25/2021.
Time to hop along!
Be sure to hop over to the fabulous Dana Joy for more amazing inspiration. And don't forget to leave comments along the way to enter all the giveaways!
you make a difference!
You can help my craft education efforts by using these links to shop for your craft supplies! These are Compensated Affiliate Links, meaning that when you click and shop, I may receive a small commission on your sale, at no additional cost to you. It's an easy way to say "thanks" and keep this great content flowing!