Have you ever wished that there was a coloring book made for your watercolor habit hobby? Maybe something with big, beautiful florals that you could use to practice your no-line watercoloring, or show off your excellent skill? Well, today is your day! You should be arriving from Jenny Colacicco's blog. If not, you can track back to the Altenew Card Blog to start at the beginning, or continue around until you loop back here.
Affiliate links are used in this post. When you click on them and make a purchase, I may receive a small commission at
no additional cost to you. Thanks for supporting my blog!
brushes would be nice…
Another wish, granted! Not only is there a beautiful watercolor coloring book with black and no-line outline images, you can get some new brushes to get completely outfit! There are two brush sets – one has four detail brushes and the other has five brushes – three round and one flat for washes.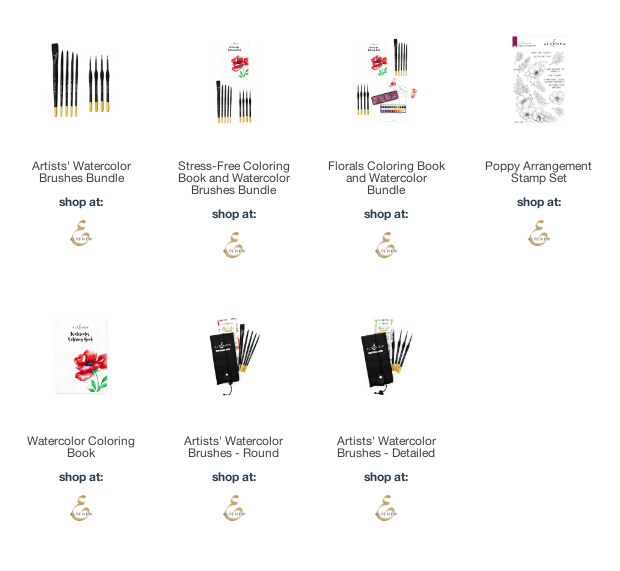 dreamy detailed poppy
Make no mistake! If you are going for realistic, or even semi-detailed, these images will take some time! The images are truly simple line outlines and you will have to bring any kind of movement to the image by creating your own shading and highlights with your painting.
Here's the thing. Is it time consuming? Yes. Is it kind of intense? Yes. Is it worth it? YES!
I got lost in the creation process. Envisioning the folds and highlights and making them come to life with my painting. I worked on this project over a weekend, taking breaks so I wouldn't over-work the project, let my eyes (and brain) rest, and come back to really assess what the project needed before starting to work on it again.
Looking for more specials and deals from your favorite craft stores?
Check out my Crafty Sales page – UPDATED DAILY!
a study in progress
I used the Artist Watercolors for the poppy project above, but I wanted to see how the Woodless Watercolor Pencils would work on this 100% Cotton Cold Press paper, so I started in on one of the no-line images. I first laid down Ultramarine to underpaint this beautiful bloom. You can see where all of the detail will go as I add layers of Sicilian Amber, Yellow Ochre, Maple Yellow, and Fresh Lemon. Ultramarine is the perfect purple-blue for underpainting and adding in extra shadows. You'll definitely want to check out my detail image below!
Even in its half-finished state, I have more hours in this project than the finished poppy project. Both of these are definitely getting framed and hung in my studio!
share and inspire someone today!
prepping & caring for your new brushes
New brushes often come with a protective coating on them that needs to be cleaned off before first use. And, when you're finished with your brushes, there's a way to clean and prep them for drying. I thought I'd do up a little instructional video for you to walk through prepping and caring for your brushes – especially if you've only used waterbrushes before now.
---
Now, about that GIVEAWAY…
To celebrate this release, Altenew is giving away a $50 gift certificate to 2 lucky winners and a $20 gift certificate to 10 winners! Please leave a comment on the Altenew Card Blog and/or each designer's blog post on the blog hop by 02/16/2021 for a chance to win.
Altenew will draw 12 random winners from the comments left on each stop of this blog hop and announce the winners on the Altenew Winners Page on 02/19/2021.
Time to hop along!
Be sure to hop over to the amazing Seeka for more watercolor inspiration. And don't forget to leave comments along the way to enter all the giveaways!
you make a difference!
You can help my craft education efforts by using these links to shop for your craft supplies! These are Compensated Affiliate Links, meaning that when you click and shop, I may receive a small commission on your sale, at no additional cost to you. It's an easy way to say "thanks" and keep this great content flowing!