Welcome to March! This month, the Altenew release features some dreamy designs with a Storybook theme! You should be arriving from LauraJane's blog. If not, you can track back to the Altenew Card Blog to start at the beginning, or continue around until you loop back here.
Affiliate links are used in this post. When you click on them and make a purchase, I may receive a small commission at
no additional cost to you. Thanks for supporting my blog!
storybook fantasy
If you're looking for something a little different, there's a lot of that in this month's release. Horse & carriage, books & quills, swans and of course, flowers… everything has detail that will remind you of your favorite stories!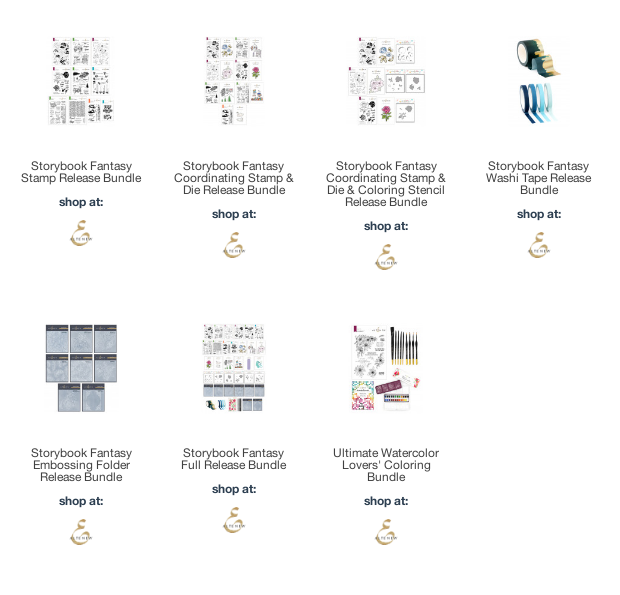 book engravings
I was drawn to the Book Engravings floral layering set because it has lots of whitespace in the layers. It really did remind me of a classic book image, perhaps even the patterned paper you might find on the inside cover of a classic fairytale book. It has a lovely vintage feel that I thought I'd show off with some gold embossing in the detail layer.
A simple gray background wash and embossed sentiment from the Storybook Sentiments stamp set pulls the look together quickly!
Looking for more specials and deals from your favorite craft stores?
Check out my Crafty Sales page – UPDATED DAILY!
gold ranunculus bouquet
For something quick and easy, all you have to do is turn to one of the many 3D embossing folders in this new release! This is the Ranunculus Bouquet 3D embossing folder. I really love the look of it all white, but wanted to show a different look. So, I smooshed some Enchanted Gold pigment ink on the folder and then embossed the cardstock. This left behind a nice yellow-gold detail on the raised parts of the folder. I sprinkled some gold embossing powder on the panel to add some extra shimmer to the highest points, and finished it off with another gold embossed sentiment from the Storybook Sentiments set.
share and inspire someone today!
fairy tale florals
Don't you love it when a floral stamp is already layered up into a bouquet or arrangement – no masking necessary? Then, Fairy Tale Florals will be on your wishlist too! Heat embossing the outline and crosshatch detail in gold made it super easy to add a simple watercolor detail. I diecut the image and added it to another watercolor wash panel with another Storybook Sentiments greeting.
---
Now, about that GIVEAWAY…
$300 in total prizes! To celebrate this release, Altenew is giving away a $50 gift certificate to 2 lucky winners and a $20 gift certificate to 10 winners! Please leave a comment on the Altenew Card Blog and/or each designer's blog post on the blog hop list below by 03/15/2021 for a chance to win.
Altenew will draw 12 random winners from the comments left on each stop of this blog hop and announce the winners on the Altenew Winners Page on 03/17/2021.
Time to hop along!
Be sure to hop over to to the talented Vicky Papaioannou for more amazing inspiration. And don't forget to leave comments along the way to enter all the giveaways!
you make a difference!
You can help my craft education efforts by using these links to shop for your craft supplies! These are Compensated Affiliate Links, meaning that when you click and shop, I may receive a small commission on your sale, at no additional cost to you. It's an easy way to say "thanks" and keep this great content flowing!