Altenew January 2020 Stamp/Die/Stencil Release Blog Hop
Altenew January 2020 Stamp/Die/Stencil Release Blog Hop
I know, you're thinking that you just saw a new release, but that was just the new Paint-a-Flower stamp set. Today, we have aaaaaaaalllllll of the fun goodies you're going to want to get your hands on! You should be arriving from Erum Tasneem's blog. If not, you can track back to the Altenew Card Blog to start at the beginning, or continue around until you loop back here.
Affiliate links are used in this post. When you click on them and make a purchase, I may receive a small commission at no additional cost to you. Thanks for supporting my blog!
Stamps, Dies & Masks…. oh my!
Today's release is choc-full of everything you expect from an Altenew release. There's beautiful floral designs, layering sets, bold graphics, and even some new vases! Don't forget about the stand-alone dies too! Hmmmm… which will be your favorites?

Choices, choices, choices…
I really had a hard time picking out products from the January 2020 Release. But, once I did, the projects came easy!
Today I'm going to share a bit about the new Tartan stamp set. Technically, it's a builder set as you can create all sorts of tartan patterns using the pieces from the set.
Over the next week or so, I'll dive into more detail on the rest of these beauties. But, for now, how about you just get inspired by all the beautiful possibilities of this new release?!
A closer look
Once you see how easy it is to work with the Tartan stamp set, it's definitely going to be on your list!
Thank You!
Time is precious and I'm truly grateful that you choose to spend a few minutes of your day with me! If you are in love with my projects and would like to see more, please support my business by following me on Instagram, YouTube, and Pinterest.
​Now, about that GIVEAWAY…
To celebrate this release, Altenew is giving away a $50 gift certificate to 6 lucky winners! Please leave a comment on the Altenew Card Blog and/or Altenew Scrapbook Blog by 1/30/2020 for a chance to win.
We'll also draw a winner to receive a $20 gift certificate from the comments left on each designer's blog on the blog hop list below. All winners will be announced on the Altenew blogs on 2/2/2020.
GOOD LUCK!
Sign up to receive my weekly email newsletter and blog post updates!
(It's free and full of specials & exclusive content!)
Inspired by the products I used?
The supply list is right here! Click a product to start shopping.
These links are Compensated Affiliate Links, meaning that I may receive a small commission on your sale, at no additional cost to you. Thank you for your support!
Items marked with an asterisk (*) were provided by a store or the manufacturer.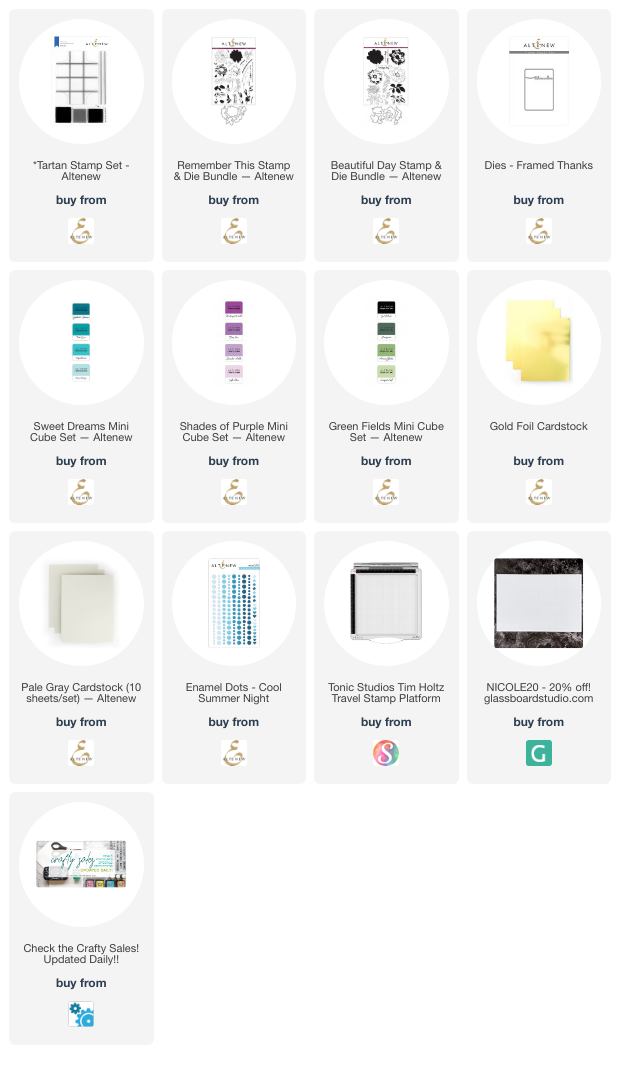 Here's some other projects you'll like!