Altenew Enjoy the Ride Scrapbook Collection Release
Altenew Enjoy the Ride Scrapbook Collection Release

Hey all! I'm so happy to be hopping along today with Altenew for something a little different! You should be arriving from Amanda Baldwin's blog. If not, you can track back to the Altenew Card Blog to start at the beginning, or continue around until you loop back here.
Affiliate links are used in this post. When you click on them and make a purchase, I may receive a small commission at no additional cost to you. Thanks for supporting my blog!
enjoy the ride!
Have you ever explored the scrapbook suites from Altenew? Even if you're a cardmaker, you should definitely take a look as everything from the patterned paper to the ephemera can be used to create some wonderful (and easy) cards!
This latest collection is called "Enjoy the Ride" and it comes complete with papers, ephemera, chipboard stickers & alphas as well as washi tape!
three super fast cards
My projects today have no stamping, cutting, or coloring! I simply created with the 6×6 paper pack and the two ephemera packs.
And isn't it just beautiful? The gorgeous 6×6 paper pack has bold designs that really do the heavy lifting to bring a project to life. This first card just needed a simple image and sentiment. I snipped one of the sentiments to get the "just" and paired it with the "relax" sentiment to come up with something new.
I followed the same idea for the second card, except I added in a little more greenery since the background wasn't as busy. No rocket science here! Just mixing and matching to make a quick arrangement.
The last card I whipped together followed the same basic principles, except that I mixed and matched some of the patterned paper to create more of a scene with sky and ground. I love how the pieces extend off the edge of the card base. This is definitely one I would have to put into a larger envelope, or hand-deliver.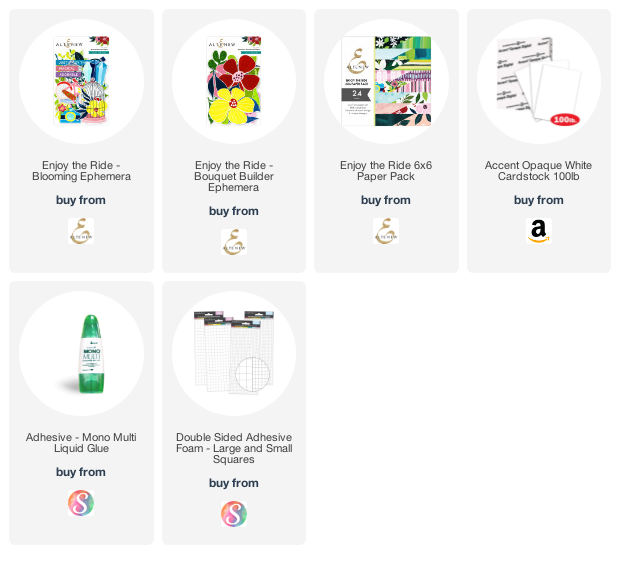 let's create together!
Once you get this suite in your hot little hands, you'll want to create these cards for sure, so here's how!
Thank You!
Time is precious and I'm truly grateful that you choose to spend a few minutes of your day with me! If you are in love with my projects and would like to see more, please support my business by following me on Instagram, YouTube, and Pinterest.
​Now, about that GIVEAWAY…
To celebrate this release, Altenew is giving away a $30 gift certificate to 5 lucky winners! Please leave a comment on the Altenew Card Blog or Altenew Mixed Media Blog by 9/1/2020 for a chance to win.
We'll also draw a winner to receive a $15 gift certificate from the comments left on each designer's blog on the blog hop list below. All winners will be announced on the Altenew Winners Page on 09/03/2020.
GOOD LUCK!
Sign up to receive my weekly email newsletter and blog post updates!
(It's free and full of specials & exclusive content!)
Here's some other projects you'll like!
Did you miss Thursday's live stream? Here's the recap!