I love dies, don't you? They bring such an easy way to add texture, layers, or even main elements to a project. That's why I'm glad you're joining me to check out all the inspiration from this latest Altenew release! You should be arriving from Jennifer McGuire's blog. If not, you can track back to the Altenew Card Blog to start at the beginning, or continue around until you loop back here.
Affiliate links are used in this post. When you click on them and make a purchase, I may receive a small commission at
no additional cost to you. Thanks for supporting my blog!
bursting with creativity
Dies are also an easy way to feel extra creative! Layering dies do all the hard work of creating a 3D effect, background dies add easy texture, sentiment dies add just the right statement… This release has it all!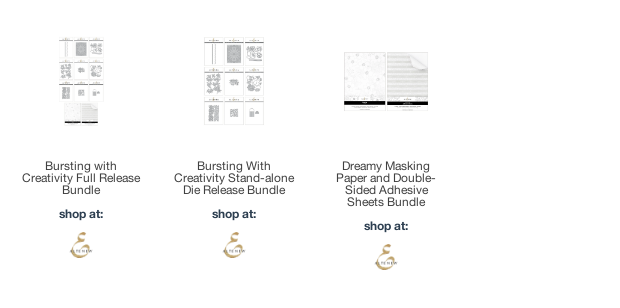 new product alert!
I would be remiss if I didn't mention two NEW products! Double Sided Adhesive Sheets and Masking Paper! These are definitely two must-haves in your toolbox! They are approximately 8.5″ x 11″ sheets which adds a lot of versatility to the project. I had a chance to test the Double Sided Adhesive sheets and I really like the way they stick! I received them after I created today's designs, but you'll definitely see them in future projects and videos! Get them in a bundle and save!!
wood flower + leaves
All of my designs feature this stunning Wood Flower in shades of peach with gold leaves and accents. I know that we all love florals, but sometimes they end up looking like they're floating on the page. Each of my designs will show you how to ground your flowers with dies!
In this design, I used the new Just Leaves dies in white woodgrain cardstock to add a background that helps to ground the main floral image. A few satin gold sequins finish off the panel along with a sentiment from Birch Forest. See how easy that is?
Looking for more specials and deals from your favorite craft stores?
Check out my Crafty Sales page – UPDATED DAILY!
wood flower + dotted lines
Debossing dies add beautiful texture in a very subtle way. They're also great for grounding florals. The new Dotted Lines Debossing Cover Die adds a radial pattern leaving a perfect kind of burst pattern behind the Wood Flower. Adding in a sentiment strip (from Geometric Landscape) also adds in a grounding point.
TIP: Don't be afraid to let your sentiment overlap your main element – it helps join the design together!
share and inspire someone today!
wood flower + swirl motif
The Swirl Motif layering die set is dreamy! Two layers provide a shadow or base layer, and a detail/outline layer. They can be used separate or together. In this design, I used a white base to add some extra dimension behind the Wood Flowers. I chose to do the detail layer in gold glitter paper to coordinate with the gold glitter details in the flowers.
This time, there's two flowers, but they still need some grounding, which the Swirl Motif provides. There's no floating here! The simple sentiment was provided by the Checkerboard Stamp Set.
wood flower + linear crossroads
For my last design, I grounded the Wood Flower with the new Linear Crossroads die. This is going to be a well-used background texture for sure! It's smaller size allows for a lot of versatility. It could be a central focal point on its own. It can pair with a large or small floral for a grounding element, or you could add in more than one or cut it up to extend on either side of an element.
This is the third die in this style from Altenew. Twigtastic is another interlocking style texture die – released today, and the Burlap texture die that was released a few months ago was a huge hit! You'll definitely want to add Linear Crossroads to your stash!
I hope you enjoyed all of the ideas I shared today! Which was your favorite project? Let me know with a comment, won't you?
---
Now, about that GIVEAWAY…
$250 in total prizes! To celebrate this release, Altenew is giving away a $50 gift certificate to 2 lucky winners and a $15 gift certificate to 10 winners! Please leave a comment on the Altenew Card Blog and/or each designer's blog post on the blog hop list below by 12/23/2020 for a chance to win.
Altenew will draw 12 random winners from the comments and announce the winners on the Altenew Winners Page on 12/25/2020.
Time to hop along!
Be sure to hop over to Kelly Griglione for more amazing inspiration. And don't forget to leave comments along the way to enter all the giveaways!
you make a difference!
You can help my craft education efforts by using these links to shop for your craft supplies! These are Compensated Affiliate Links, meaning that when you click and shop, I may receive a small commission on your sale, at no additional cost to you. It's an easy way to say "thanks" and keep this great content flowing!