Have you been waiting for new holiday themed stamps from Altenew? Well, wait no longer! We're celebrating the "beauty of the season" with a blog hop and giveaway! You should be arriving from Vicky Papaioannou's blog. If not, you can track back to the Altenew Card Blog to start at the beginning, or continue around until you loop back here.
Affiliate links are used in this post. When you click on them and make a purchase, I may receive a small commission at
no additional cost to you. Thanks for supporting my blog!
holidays and more!
This month's release is "Beauty of the Season". Of course, that means that there are some traditional Christmas holiday stamps and dies. But, there is also a host of great sets that are perfect for fall and fall holidays too! There is also a fun surprise – embossing folders! These are 3D embossing folders meaning that there are multiple depths in the embossing making the image really pop off the page!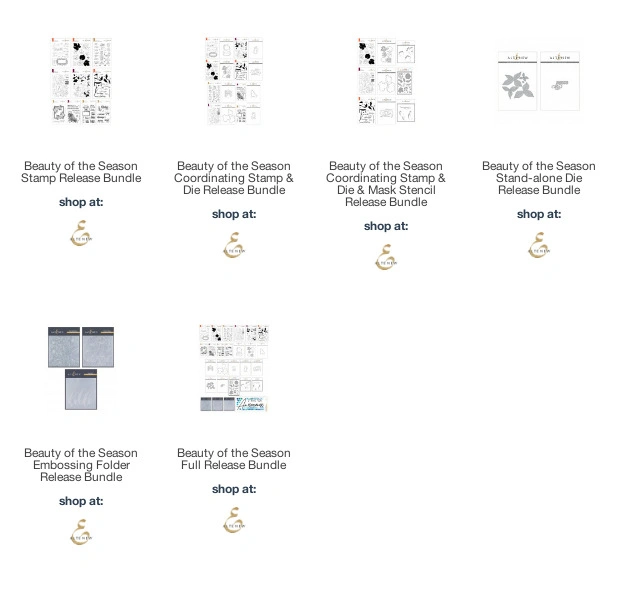 seasons greetings
When I saw the Holiday Flower set, I knew exactly what I wanted to do. The poinsettias colored in quickly with Red Cosmos and Green Fields Artist Markers, and I embellished the centers with the smallest sequins from the Antique Gold Sequins assortment. To finish the design, I mounted the poinsettias to a panel covered in the Gold String washi, and instead of going for a predictable layout on the sentiments, I bordered the popped-up panel.
a "gift" card
Ok, so this isn't a gift card or a gift card holder, but it is a card that looks like a gift! LOL!
I paired up the Poinsettia 3D Die set with the Holiday Tag Sentiments stamp set to create this fun look. The Terrific Tags dies and Gold Trim Washi finish off the gift look, along with some Antique Gold Sequins. I added some sequins to the center of the poinsettia – I think that really finishes off the look!
Looking for more specials and deals from your favorite craft stores?
Check out my Crafty Sales page – UPDATED DAILY!
winter cardinals
As an Ohio native, I've always loved Cardinals (they're the state bird), but I think I see them even more often now that I live in Nebraska. We even had a mama nesting with two chicks in one of our bushes this summer!
I'm always on the lookout for a Cardinal set that reflects the shape of the cardinal to my liking. Sometimes they look mean, or too chubby. These guys from Season's Tweetings are just right! Instead of using the layering stamps, I used the mask stencil to add black shading. I love the soft look that I was able to achieve with that technique.
letterpress hello
Let's move on to the embossing folders. The first one is classic – Mega Hello! It is absolutely gorgeous all on its own. It's actually a debossing folder, meaning that the impression pushes into the paper instead of popping out. The impression is super deep – deeper than letterpress. Imagine creating a whole series of these in a rainbow of cardstock. Wow! (It's also incredibly hard to photograph!)
hello, again
This time, I did a fun technique, adding ink to the Mega Hello debossing folder and then running it through my machine. I love how it captured the ink details and left some cool shadowing around the letters. Again, it's just so cool to see in person, and really, needs no other embellishment or sentiment! I used a gray ink pad, from another brand, but I think this would look great with the new Mixed Media inks!
share and inspire someone today!
bergenias back again
For my final project, and the second 3D Embossing Folder in my collection, I'm sharing the Beautiful Bergenia folder. It mimics the Bergenia Builder stamp set, so you could easily pair the two together. I really wanted to show off the beautiful simplicity of the embossed panel, so I pulled out a watercolor wash background from my scrap stash and ran it through. I pulled the sentiment from Blossom Wreath stamp set. Gorgeous, no?
live on release day!
Join me LIVE on YouTube at 2PM US Central today, September 10th, to see these new products up close and personal! We'll also play with the new embossing folders and recreate the Season's Tweetings card. If you miss the live broadcast, the replay will be below, or on my YouTube channel!
Now, about that GIVEAWAY…
To celebrate this release, Altenew is giving away a $50 gift certificate to 3 lucky winners! Please leave a comment on the Altenew Card Blog by 9/15/2020 for a chance to win.
We'll also draw a winner to receive a $15 gift certificate from the comments left on each designer's blog on the blog hop list below. All winners will be announced on the Altenew Winners Page on 09/18/2020.
Time to hop along!
Be sure to hop over to the talented Victoria Calvin for more amazing projects. And don't forget to leave comments along the way to enter all the giveaways!
you make a difference!
You can help my craft education efforts by using these links to shop for your craft supplies! These are Compensated Affiliate Links, meaning that when you click and shop, I may receive a small commission on your sale, at no additional cost to you. It's an easy way to say "thanks" and keep this great content flowing!